Paul Chon, DDS, Santa Ana Dentist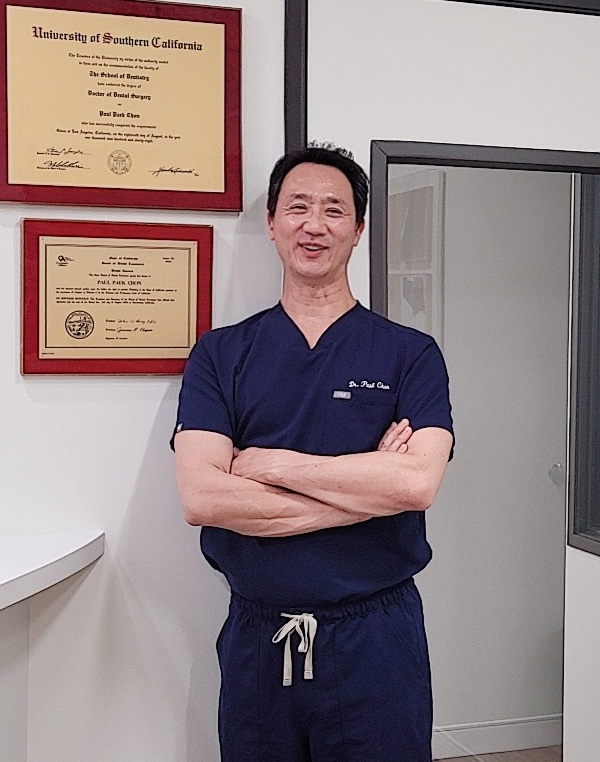 Background and Credentials
Dr. Paul Chon takes pride in building trust in patient relationships, giving every patient a comfortable experience, and providing the safest, most beneficial dental treatments available. He believes that skill and compassion come hand in hand, as both are necessary to providing exceptional patient care.
Staying up to date on the latest advancements in dentistry, Dr. Chon provides the most current treatment options for his patients. He values each patient is a unique individual with unique needs and knows that building a relationship based on trust is the best way to be partners in your health.
Dr. Paul Chon attended the University of Southern California and earned a Bachelor of Science in Biology in 1994, and a Doctor of Dental Surgery in 1998 with honors in undergraduate Prosthodontics.
Dr. Chon completed his advanced dentistry training with many world renowned clinicians. Advanced Implant Dentistry at Loma Linda University with Dr. Jaime Lozada and Dr. Joseph Kan, IV Sedation at Hermon Ostrow School of Dentistry at University of Southern California with Dr. Stanley Malamed, Cosmetic Dentistry at UCLA with Dr.Brian Le Sage and The Pankey Institute-Advanced Dental Education Program.
Dr. Chon understands that a true professional never ceases to keep learning and mastering the latest advances in his field. For this reason, he has continued his professional education with several courses and certifications to make sure you receive the highest quality oral health care.
Amongst other things, Dr. Chon's continued education has enabled him with the confidence to provide the most comfortable and convenient high-tech treatments, as well as safest, most medically sound administration of dental sedation.
Dr. Chon grew up in beautiful Southern California and know his patient-base well. Within this community, Dr. Paul has become known to many as the premier dentist to seek out when looking for the highest standard of general and implant dentistry, as well as VIP treatment and comfortable dental experiences.
When he is not working at the dental office, you can find him working out doing various activities and spending time with his family.
Since opening his practice in 2001, Dr. Chon has attracted patients from not only Orange County area but from all over Southern California. Other providers may provide one -size-fits-all dental treatments, but Dr. Chon will always ensure you appointments will leave you pleased with the outcome and pleased with the experience.